Melbourne Royal Show 2018
October 12, 2018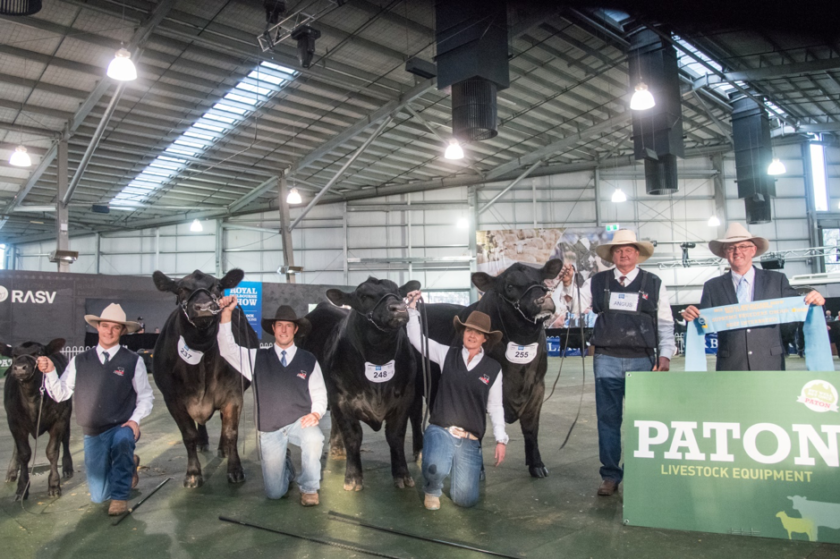 (Interbreed Champion Breeders Group)
An Angus bull that "moves around the ring like a cat" took out supreme exhibit of the breed at the Royal Melbourne Show.
Exhibited by Pine Creek Angus stud, Cowra, NSW, the 18 month-old bull was described by judge Sam Martin, Maria River Cattle Co, Walcha, NSW, as being athletic, with softness, shape and yield.
"When I'm choosing supreme, I'm looking for the animal that's going to have the biggest impact on the industry, and this bull's just a bit different," Mr Martin said.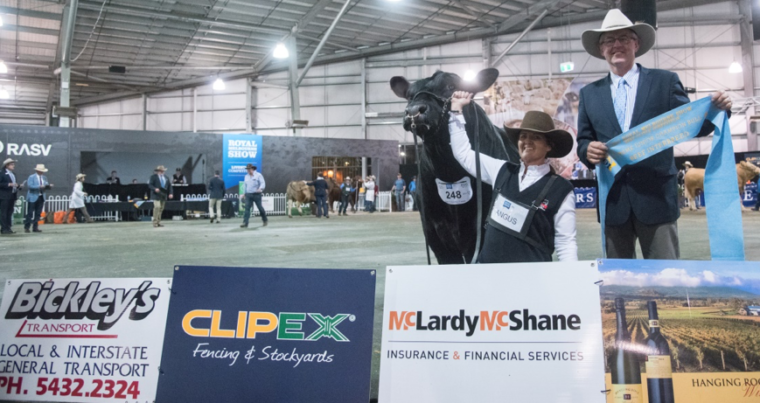 Christie Fuller holding the Junior Interbreed Champion Bull – Black Diamond 5R Kodiak N411
"He's going to take their program to the next level while maintaining consistency."
The bull's journey to the top saw it beat out two other exhibits in its bull 15 to 18 months class, then all of the junior bull exhibits, the senior champion bull, by Tattykeel Angus, Oberon, NSW, and then the grand champion female, also an exhibit by Pine Creek.
Mr Martin said the female, a four year-old with her third calf-at-foot, was refined in the front-end, and strong throughout.
But he said it was her ability to rear a good quality calf that put her above the junior champion female.
"I really appreciate a female in production," he said.
To take out both champion ribbons, and also the most successful exhibitor title, was an "unbelievable" result for Pine Creek's Sharon Fuller.
Ms Fuller said after a "very, very dry" season, which saw the family destock surplus and young stock, it was particularly rewarding to get the recognition.
She estimated it was their sixth supreme Angus champion ribbon received in their time showing at the Melbourne Royal, which included last year.
It was the first big show both exhibits had been entered into, and she said both were good examples of what they were striving to breed.
The supreme champion was sired by HF Kodiak 5R, a bull the stud imported from Canada five years ago, who has produced a lot of show-winners in its time.
"Kodiak's done really well for us," she said.
She said the bull had been a standout from a young age, because of his muscle pattern, growth and weight for age.
The champion female was sired by a home-grown bull, and had good shape, and a beautiful udder, according to Ms Fuller.