September 2018 – Adelaide Royal Show
September 3, 2018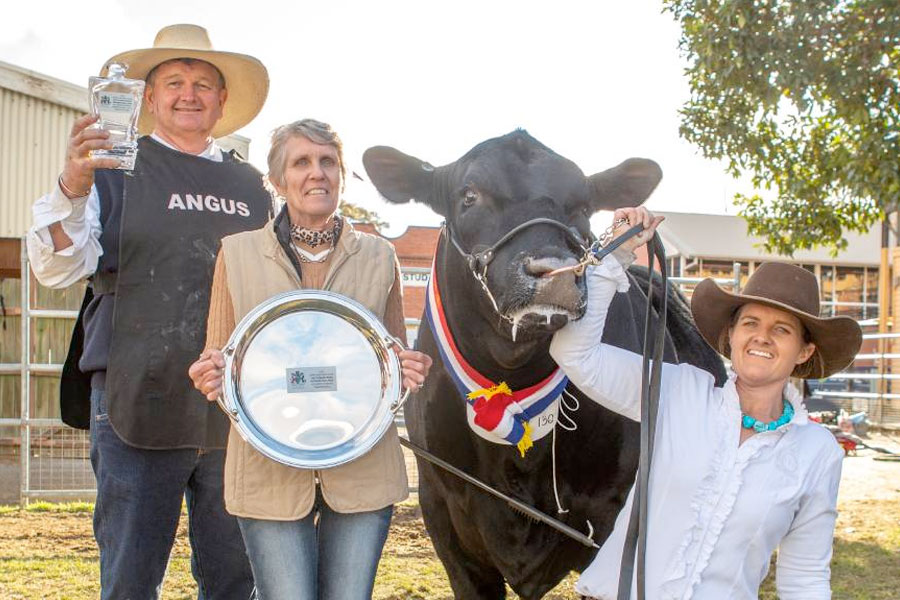 SUPREME EXHIBIT: PC J157 Newsman N003
Pine Creek J157 Newsman N003 hit the headlines again, winning supreme beef cattle exhibit, just weeks after achieving the same feat at the Ekka in Brisbane.
The outstanding 20-month-old Angus sire was also a convincing winner for all breeds supreme champion bull, 12 points ahead of its nearest rival.
It was Pine Creek stud's third supreme ribbon at Adelaide in the past four years.
Owners Greg and Sharon Fuller and their daughter Christie Kennedy from Cowra, NSW, now have their sights on the Royal trifecta, with the bull destined for the Melbourne Royal Show.
Mrs Kennedy was thrilled with the bull, bred from Canadian bloodlines, reaching the pinnacle of success.
It was a grandson of HF Kodiak and out of a daughter of Canadian sire Creed 94S which Pine Creek owns the Australian semen marketing rights in.
Newsman tipped the scales at 918 kilograms and had 130 square centimetres of eye muscle with 14mm rump and 8mm rib fat.
"He is pretty eye catching in the ring and he has just got heaps of sire appeal," she said.
"He is one of those complete packages – he is moderate but not too big but has all the attributes we need in the commercial industry."
Pine Creek has already sold semen in the supreme exhibit and will use the bull in their own AI program before entering him in the Angus feature at the 2019 Sydney Royal Easter Show.
Four of the five judges had Newsman as their top pick over a magnificent Red Angus female owned by Christie and her husband Andrew Kennedy, Black Diamond stud, Cowra.