PC Angus participates at selected shows across Australia every year
The Only Angus Breeder to Win the Hordern Trophy 9 Times.
We have been fortunate enough to have our bulls and females selected for multiple Supreme, Grand and Championship honors. Here at PC Angus we feel exhibiting our cattle allows us to promote our breeding program to fellow cattle breeders. We feel that showing cattle fulfills our competitive spirit.
It is exciting for us whenever judges choose our cattle to win knowing that our breeding program is achieving goals and hitting the accomplishments in the show ring that we want to achieve and promote in our breeding program.
Our Success in the show ring has been phenomenal. The runs of Breed and Interbreed Championships have established us as one of Australia's leading and competitive studs. We are the only Angus Breeder to win the Prestigious Hordern Perpetual Trophy 5 Times and the Supreme Angus Exhibit eight times to date.
Our biggest highlight in the show ring to date was in 2015
were we won all the Interbreed Championships across the board including the Hordern Perpetual Trophy (Supreme Interbreed Pair), Urquhart Perpetual Trophy (Supreme Individual Beef Exhibit), RAS Supreme Interbreed Junior Heifer and the Gordon Fuller Memorial Trophy for the Interbreed Champion Breeders Group. No one else has ever come close to the major accomplishment.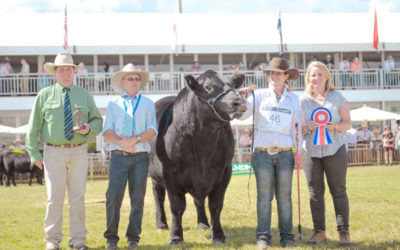 May 2018 – Beef Australia May 10, 2018Junior champion bull: PC H130 Kodiak M117 Judge: Steve Crowley, Tycolah Poll Herefords, Cobbadah, NSW No. of exhibits: 65 Junior champion bull: PC H130 Kodiak M117, Pine Creek Angus, Cowra, NSW Junior champion female: PC Miss Tour...